Company
Gencoa designs and manufactures equipment used in the deposition of thin films, supplying to customers across a wide range of sectors, including many world-leading companies within their industries.
The strengths of the company are evidenced by the high level of experience and process know-how existing throughout the business, and demonstrated through collaborative work with customers.
Gencoa's success has relied on an ability to understand and meet the expectations and challenges set by customers, often resulting in groundbreaking solutions across a range of technology sectors.
And in a fast-moving world of technology, Gencoa's investment in research and development ensures that new ideas and improvements to existing technology are never far away.
Quality
Gencoa has been ISO 9001 certified since 2006, and is currently certified to ISO 9001:2015 standard.
The company's quality objectives cover response times, delivery of a quality service, implementing of corrective or preventive measures, and the offering of prompt technical support.
In recognizing the importance of ISO accreditation, Gencoa only use accredited suppliers for parts used in the assembly of products.
Gencoa is a private limited company, registered in England and Wales (registration number: 02956450).
Gallery


Downloads
Find us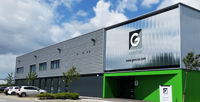 Gencoa's main facility is situated in South Liverpool. Click for directions >