Dual rectangular magnetron
Gencoa double (or dual) magnetons combine all the process and design expertise to realise an integrated package that ensures 'drop-in' optimum operation.
A typical integrated dual sputter cathode assembly has the following features:
Two magnetrons with an asymmetric magnetic design
Integral dark space shield (with dual cathodes the target alternate and act as the anode and cathode)
Water cooled dark space shield and rear mounting plate (cooling of the shield is recommended when AC power is applied in double configuration - especially important when coating plastic web)
Integrated gas bars (number of sectors and design depends upon cathode size)
Fibre-optic monitoring of the plasma discharge (1 or 3 zone or can be excluded if target voltage feedback gas control is used)
Speedflo reactive gas controller
All of the above are essential for trouble free high rate reactive deposition of dielectric materials. Double cathodes can also be used for reactive or non-reactive deposition of conducting materials - in this case the electrically floating dark space is not essential.
Mounting styles for double sputter cathodes are flexible with the most common type cantilever mounted for web coating or drop-in, sputter-down for architectural glass coating. Gencoa will provide a custom 3D model of the entire assembly for easy integration into the customers overall system scheme.
Mounting options
• Internal
• External
• Spacer
• Cantilever
Double cathodes are ideally suited for high rate deposition using reactive processes and Gencoa can provide onsite or remote process tuning for reactive processes using Gencoa's Speedflo reactive gas controller. This ensures robust control of the process high on the hysteresis curve for your materials and the highest deposition rates. To understand Gencoa's Speedflo range of products see the Speedflo page.
Gallery







Downloads
Related Applications
Contact Gencoa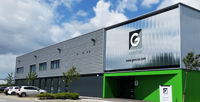 To contact Gencoa at our Liverpool headquarters, click for contact details.
For details of international representatives, refer to our list of worldwide contacts.