Activated oxygen plasma source
Gencoa's high power gas plasma source is a new solution for pre-treatment and radical assisted sputtering which delivers key benefits over traditional RF and microwave powered gas sources.
The gas source delivers a high current density for substrate treatment, and can be assembled with source lengths of up to 4m without any power scaling issues.
Power is switched between two water-cooled electrodes in the presence of oxygen gas and a magnetic field. The resulting plasma ionizes the oxygen gas species and also provides an electron shower for neutralisation which avoids charge build-up on the substrates.
The double electrode switches from positive to negative and delivers a stable and highly uniform plasma.
Shields are water cooled for low temperature processing, and the sources operate without coating or debris, which therefore eliminates any requirement for cleaning.
Key features
- 0.2m to 4m source length with no power or scaling issues
- Up to 40 Amps of plasma electrode current per metre length
- Highly activated gas species with 70 eV energy
- Added kinetic energy of gas to aid layer oxidation & pre-cleaning
- Pure gas plasma – no etching of electrodes
- No maintenance
- Self-neutralized switching plasma potential delivering both positive and negative bombardment
- Lower cost than RF and microwave plasma generation devices
Gallery










Downloads
Find us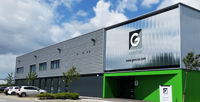 Gencoa's main facility is situated in South Liverpool. Click for directions >