Speedflo - Reactive Feedback Control System
Speedflo's technology is continuously being developed, pushing the operating window and helping end-users to get even more from the process.
Control algorithm
Speedflo utilizes a proprietary advanced PDF+ control algorithm that is capable of extremely fast and accurate feedback control. In addition to the PDF+ algorithm the Speedflo controller features a digital variable structure control law that is able to maintain fast-acting and stable control, even when the MFC becomes fully open or closed. This enables feedback control that is high performance, robust and reliable.
Multiple control channels
The Speedflo controller has up to eight fully featured and independent control channels. This allows for simultaneous feedback control of eight MFCs, with options to combine various sensors and duplicate control channels. This powerful capability is especially useful for large target areas where precise deposition uniformity must be achieved.
Advanced user interface
A highly developed software interface includes many powerful functions to allow different methods of configuring the process control and combating difficult control situations. All of the software functions can be seamlessly incorporated into an existing PLC system.
Downloads
Contact Gencoa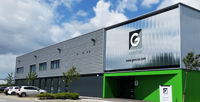 To contact Gencoa at our Liverpool headquarters, click for contact details.
For details of international representatives, refer to our list of worldwide contacts.