Linear ion source
Linear ion sources by Gencoa are a robust and flexible means of pre-cleaning polymer and glass substrates prior to thin film deposition. The plasma jets generated impact the substrate to burn-off hydrocarbons and activate the surface to promote adhesion of the deposited film.
The intense plasma jets are generated by a combination of the magnetic and electrical field across a narrow gap through which the gas or gases pass. DC power modes can be applied with typical voltages in the 1.5-3kV range to provide a 'high' impact plasma pre-treatment. The use of pure argon gas generates the most effective plasma cleaning, but any combination of gases can be used. The plasma can also be used for deposition and polymerization via the gas phase. Gencoa ion sources have the unique feature of graphite anode and cathode protection to reduce the erosion of source to low levels. Graphite based hardware is standard in other types of plasma sources, but only Gencoa have it for the linear ion sources.
The robust and easy to service design is available in any length and a variety of internal, external or cantilever mounts.The IM series are not recommended for metallic substrates or very high speed web movements as the discharge currents do not exceed 1A per m length. Gencoa provide a range of different magnetron based solutions for high power magnetically enhanced plasma generation electrodes.
Key features
Optimized magnetic fields to produce a collimated plasma beam at standard sputtering pressures
Automated regulation for the gas to maintain constant current & voltage – multi-gas auto control
Graphite anode and cathode to protect the substrate from contamination and provide long-life components
RF standard electrical insulation on all ion sources
In-direct cooling of anode and cathode – quick switching of parts
Easy switching of cathode parts to provide multiple magnetic traps for lower voltage operation, or a focused beam
Voltage regulated power supply with gas adjustment feedback to maintain same current at all times
Gallery








Downloads
Related Applications
Find us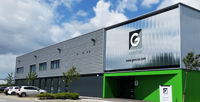 Gencoa's main facility is situated in South Liverpool. Click for directions >