Power supplies
The iM300 and iM3000 offer a complete solution for Gencoa IM type linear and circular plasma sources. All of the functions needed to operate the source are built-in.
The only user action is to connect the high voltage cable and the mass flow controller.
The necessary control sequence and power delivery is performed by the iM300 and iM3000 controller.
The unit is equipped with a modern, IGBT based resonant converter and the overall operation is handled with a microcontroller subsystem.
Both units can provide ~2.8kV strike voltage and 2.5A short circuit current.
Max output power is 500W @2500V output voltage for the iM300 and 4000W @2000V output voltage.for the iM3000
The built in software can drive external mass flow controller to mantain the source voltage (and so the beam energy) at a preset value. The features of the iM300 and iM3000 makes setup, operation and regulation of the plasma source very straight-forward.
Specifications
| | | |
| --- | --- | --- |
| | iM3000 | iM300 |
| Unit | rack 19" 4 HU | 1/2 rack 19" 3 HU |
| Main | 400 VAC 3 Ph | 240 or 110 VAC with switch selector inside |
| Voltage strike | 3 Kvolt positive | 3 KVolt positive |
| Nominal voltage | 2500 V/4 kW | 2500 V/500 Watt |
| Short circuit current | 2 A | 300 mA |
| Regulation mode | Current (5 mA resolution) | Current (0.5 mA resolution) |
| Output connector | FISHER HV female mod 105 | BNC SHV female |
| MFC | 2 channels analog 0/5 VDC | 2 channels analog 0/5 VDC |
| Display | Touch screen 240 x 128 pixel | Touch screen 240 x 128 pixel |
| Interlock/remote | 9 pin D type | 9 pin D type |
| RS 232 | 9 pin D type | 9 pin D type |
| Regulation mode | Internal costant gas flow, or gas feedback (costant voltage), via external RS 232 or analog user port | Internal constant gas flow, or gas feedback (constant voltage), via external RS 232 or analog user port |
Downloads
Upcoming Events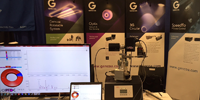 14 June 2023

- Vacuum and Technology Exhibition

15 June 2023

- IOP Plasma Surfaces and Thin Films

28-29 June 2023

- Advanced Materials Show

23-26 July 2023

- ALD 2023