Circular ion source
Gencoa's IMC75 is a gridless and self-neutralizing circular ion source, and marks a new generation in ion etching.
The IMC75 boasts a long maintainance cycle - both in reactive and inert environments - and has an operational range of up to 90mA and up to 3kV.
There is no contamination, which makes the product suitable for semi conductor applications. Other applications include substrate pre-clean, ion assist, etch/texturing and PACVD deposition.
The IMC75 is easy to fit, with a 1" shaft mount and outer diameter of 5", and is an ideal pair for Gencoa's new 3" and 4" circular full face erosion magnetrons.
Key features
Inversed magnetron ion beam
Self neutralised ion beam
Operating pressure in large pressure range (E-4 to E-3 mbar)
Tilting head - ion angle control
Stable ion beam current and ion energy distribution
Feedback control
Variety of gas feed possible
No contamination
Suitable for Semiconductor industry
IMC75 Ion Etching Applications
Nanotexturing
Coating removal
Improving coating adhesion
ITO and silver deposition assistance
PACVD - DLC deposition
Ion beam deposition
Gallery




Downloads
Related Applications
Find us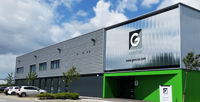 Gencoa's main facility is situated in South Liverpool. Click for directions >