GRS-C
GRS-C is a cantilever-mounted rotatable magnetron by Gencoa which combines high load bearing and power delivery. The GRS-C is for horizontal drum type web coating machines with the end-block located outside the chamber side wall, and the target rotating within the chamber.
The GRS-C compact nature and varying target diameters allows multiple sources to be located around the drum.
Its unique design addresses the key points in reliable sputter process delivery with excellent results. The magnetic array angle can be set externally by a hand crank or a stepper motor.
Despite its compact size, the GRS-C can be assembled with targets of up to 2.4m and is vibration-proof and robust. Its cooling and power capacity matches the largest cantilever-style rotatable magnetrons on the market.
Advantages
Can be fitted with non-proprietary targets
Double seals for target mounting and double screws target clamping
High water flow
Market leading vacuum integrity of vacuum seals – better than 5x10-8 mbar l/s He leak rate under rotation
Leak check port for vacuum seals and rotary encoder for drive monitoring
Easy to maintain
Utilises Gencoa's high performance magnetics including balanced, unbalanced, high strength and DLIM options
Low deflection magnet bar support tubes
Unique seal design for reliable operation sets it apart from other competitors
High current capacity
Can be used in conjunction with Gencoa gas bars, active anode, Optix and Speedflo
Array angle positioning can be performed in-situ without breaking water seals or any disassembly – manual or motor driven
Key features
Target lengths of up to 1.2m as a horizontal cantilever, and up to 2.4m with outbound support
Port mounted externally to chamber
Accommodation of Ø90mm, Ø100mm, Ø125mm & Ø152-165mm targets
¾" ID water connections for high flow
DC motor drive with RS-485 interface and possible PLC integration
High current Harting connection
Manual or motorised array positioning for multiple substrate location or target cleaning
Operational speed up to 15RPM
Gallery







Downloads
Related Applications
Product brochure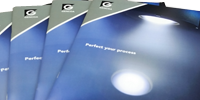 Download a PDF copy of Gencoa's latest product brochure.