Web coating
Vacuum web coating is a strong industrial sector for sputtering and covers the spectrum from packaging applications to high technology display and solar cell production.
The technique has great advantages in terms of productivity and end-use adaptability. The traditional polymer based substrate materials such as PET, PEN and polyimide have now been expanded to flexible glass and metallic strip.
The design and manufacture of sputter cathodes for vacuum web applications requires some specific considerations. Gencoa have built up considerable experience in this field and have produced a wide range of designs from small single cathodes to very large dual cathodes with reactive gas systems and cantilever tilt adjust.
Gencoa have a close cooperation with OEM's operating in this area and have a large range of products commonly used in web machines:
Optix residual gas analysis for system and process monitoring and web material outgassing measurement
Internal cantilever mount single and double planar magnetrons with water cooled anodes and argon or reactive gas injection
GRS-C cantilever style mounted rotatable magnetrons which can use target diameters of 90, 100, 125 and 152mm OD
Active Anodes with magnetic guidance to provide more flexible layers (lower stress), better process stability and reduced web damage
Linear ion sources for web material pre-treatment for quality enhancement
Magnetron and double tubular cathode AC type for high power plasma pre-treatment
Speedflo for reactive gas control to yield high rates and good uniformity
HS magnetic designs to sputter ferro-magnetic target materials
Related Products
Contact Gencoa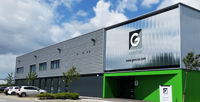 To contact Gencoa at our Liverpool headquarters, click for contact details.
For details of international representatives, refer to our list of worldwide contacts.