Semiconductor
The semiconductor is the largest and longest established industry sector using PVD technology.
At its inception the sector used evaporative techniques to form the layers, but quickly adopted sputter-based solutions due to its inherent controllability. This sector has traditionally used either a 'cluster-tool' or an 'inline' approach. Both methods are still widely used and they are differentiated simply by whether the wafer is static during coating (cluster tool), or moves past the magnetrons during coating (in-line).
Cluster tool solutions are widespead with over 50 commercial offerings on the market.
Gencoa's circular magnetrons offer very good options for the semiconductor market.
3G Circular Magnetrons have a small footprint and with the ±45° angle adjustment, cluster tools can be easily set up
Circular FFE for any wafer size available, up to 600mm target diameter

12" FFE for 8" wafers with an uniformity of 1-3 %
High target use perfect for precious target materials
High uniformity with small target substrate separation
Reactive SiO2, Al2O3, SiN processes can be sputtered

Speedflo reactive flow controller for perfectly controlled reactive processes
Optix for process optimization, pump down time reduction, process knowledge
If you have more questions about specific processes for the semiconductor market, please contact our experts and we will find the best solution for your concept and coating onto wafers.
Related Products
Product brochure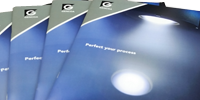 Download a PDF copy of Gencoa's latest product brochure.