News
The latest corporate news from Gencoa. To receive updates by email, click the subscribe button below to sign up to the Gencoa newsletter.
New US appointment for Gencoa
Gencoa Ltd has recently hired Joel Smolka of Technical Component Sales to manage Gencoa's Sales Operations in North America with a key focus on sales and distribution for Gencoa's OPTIX gas sensing product. Smolka has extensive experience providing sales leadership and business development to vacuum technology organizations across a diverse range of products including vacuum hardware, electrical feedthroughs, chambers, pumps, valves, electron beam, magnetrons and complete thin film deposition systems. Smolka will be based out of Pittsburgh, Pa USA and can be contacted at:
Technical Component Sales
Joel Smolka
Email: [email protected]
Office: 724-691-0936
Cell: 339-788-0470
For Regional USA Sales support please contact the following Gencoa Manufacturers Representatives:
NPB Technology Group (AZ, CO, NV, UT, HI, Southern CA-San Luis Obispo-South)
Tom Anderson
Office: 949-945-3316
Email: [email protected]
IES Technical Sales (Northeast USA)
Sean Stull
Office: 978-777-2900
Email: [email protected]
US Technologies West (Northern CA- North of San Luis Obispo, NM, Northern NV)
Brian Kott
Office: 408-782-5850
Email: [email protected]
Gencoa Newsletter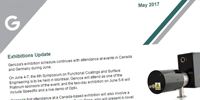 Signup to Gencoa's newsletter to receive exhibition news and updates on new product releases.