News
Corporate news from Gencoa. To receive updates by email, click the subscribe button below to sign up to the Gencoa newsletter.
Events update
A packed calendar of events begins next week on the French Riviera, where Gencoa are in Antibes for Plathinium 2023. The conference and exhibition is the first of a series of industrial tradeshows that Gencoa will be represented at over the coming weeks, with participation at events also being held in Germany, Spain, USA and UK.
Plathinium
Teaming up with local agents Neyco, Gencoa will be represented in Antibes at Plathinium 2023 for an exhibition which runs across the two days of September 12-13.
In addition to the exhibit from booth 15, Gencoa Sales Manager Dr Nessima Kaabeche will give a presentation on Remote Optical Gas Sensing to Improve Plasma and Thin Film Quality & Repeatability. Nessima's talk will be delivered on September 13, during the ITEC 2 / Innovation & Technologies session, beginning at 4.35pm.
Further information: https://www.plathinium.com/
V2023
V2023 returns to Dresden, and Gencoa will participate jointly with German agents Avaluxe. Visit stand G6 on 19-20 September to discuss products and coating services provided by Gencoa and to view a demo of the Optix gas analysis instrument.
At the poster session, which runs alongside the exhibition, a poster on Process Control and Optimisation by Remote Plasma Optical Emission Spectroscopy will be on display. Conference attendees are invited to meet the poster authors on Wednesday 12 September, 14.40-15.10 and Dr Erik Cox will be available to discuss the material presented.
Further information: https://efds.org/en/v2023/
ICTF
Gencoa Research & Development Manager Victor Bellido-Gonzalez is among the keynote presenters at the 19th International Conference on Thin Films in Burgos, Spain at the end of the month.
The event, organized by the Spanish Vacuum Society (ASEVA), runs from September 26-29 and Victor will present A Review in Magnetron Sputtering on Tuesday, September 26 at 12.20-12.50 (Presentation k16, Room 1).
Further information: https://ictf2023.com/
R2R USA Conference 2023
Dr Dermot Monaghan will present at next month's R2R Association for Roll-to-Roll Converters in Milwaukee, WI. Organised by the Association for Roll-to-Roll Converters, the event takes place from October 2-5.
Scheduled for October 3, 15:00-15:30, Dermot's talk will cover the topic of Sensing and Control of Vacuum Processes, presenting results from using various sensors to monitor and enhance different plasma pre-treatment and vacuum coating processes.
Further information: https://www.rolltoroll.org/2023-r2r-usa-conference
SPIE Optifab
Rochester, NY is the host city of SPIE Optifab, North America's largest optical fabrication exhibition. Represented by Joel Smolka, demonstrations of Gencoa's Optix sensor will be given from booth #184 of the exhibition.
Further information: https://spie.org/conferences-and-exhibitions/optifab
SPIE Photonex
SPIE Photonex takes place in Glasgow and Gencoa will be represented by UK agents Megatech at the two-day exhibition, beginning on October 25. Located at booth 307, exhibited products will include a demo of the Optix gas analysis instrument and Speedflo reactive process controller.
Further information: https://spie.org/conferences-and-exhibitions/photonex
AVS Symposium
Held annually since 1954, the AVS International Symposium and Exhibition is a regular event in the vacuum industry and Gencoa's Dr Erik Cox and Dr Kieran Massey will be in attendance at the show.
On Tuesday November 7, Kieran will deliver a presentation from Room C120-122 covering An Alternative to Helium Leak Checking (VT-TuA-9, 5.00pm). The supporting exhibition runs from November 7-9, and Gencoa are exhibiting from booth 704.
Further information: https://avs69.avs.org/
---
Optix rental scheme launched
During the current production disruption in many sectors, Gencoa is making a large number of the Optix vacuum process analysers available to customers for a monthly rental to help with process development, troubleshooting and optimisation. Optix analyses process gases, vacuum plasmas, and provides outputs for process feedback control and Industry 4.0. Its unique optical spectrum based sensing and different remote plasma generation options, allow any type of vacuum process to be characterised including ALD and CVD.
The information provided by Optix is valuable and the robust nature of the device means that customers can apply it to any type of situation without a risk to the health of the device. That is why we are happy to make these units widely available for 1 month minimum periods. After you have completed the studies, we can pass the unit onto another user, or you can purchase the unit and we'll deduct the rental costs.
If you would like to take advantage of this offer, please contact your local representative or [email protected].
A video snapshot of its capabilities can be found at www.gencoa.com/optix.

---
New US appointment for Gencoa
Gencoa Ltd has recently hired Joel Smolka of Technical Component Sales to manage Gencoa's Sales Operations in North America with a key focus on sales and distribution for Gencoa's OPTIX gas sensing product. Smolka has extensive experience providing sales leadership and business development to vacuum technology organizations across a diverse range of products including vacuum hardware, electrical feedthroughs, chambers, pumps, valves, electron beam, magnetrons and complete thin film deposition systems. Smolka will be based out of Pittsburgh, Pa USA and can be contacted at:
Technical Component Sales
Joel Smolka
Email: [email protected]
Office: 724-691-0936
Cell: 339-788-0470
For Regional USA Sales support please contact the following Gencoa Manufacturers Representatives:
NPB Technology Group (AZ, CO, NV, UT, HI, Southern CA-San Luis Obispo-South)
Tom Anderson
Office: 949-945-3316
Email: [email protected]
IES Technical Sales (Northeast USA)
Sean Stull
Office: 978-777-2900
Email: [email protected]
US Technologies West (Northern CA- North of San Luis Obispo, NM, Northern NV)
Brian Kott
Office: 408-782-5850
Email: [email protected]
Gencoa Newsletter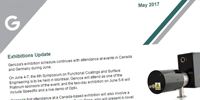 Signup to Gencoa's newsletter to receive exhibition news and updates on new product releases.