GRS-S
The GRS-S product is the most compact 'drop-in' rotatable magnetron design available on the market. The small size is a result of the Gencoa patented rotational drive system that minimizes the space required for the end-block assembly.
To make the most of the compact nature, Gencoa have created magnetics and target fixturing that can accommodate target sizes of Ø75, Ø90, Ø105 mm.
The GRS-S is hence ideal for R&D or an upgrade replacement for your existing planar magnetrons.
Advantages
Reduces target material and end-block costs
Unique patented system provides a compact and reliable end block design
High water flow (40 l/min)
Compact width allows a GRS dual to replace a standard Gencoa external 125mm target width planar magnetron
Utilises Gencoa's high performance magnetics including balanced, unbalanced, high strength and DLIM options
Can incorporate an active anode in dual configuration
Unique seal design for reliable operation sets it apart from other competitors
High uniformity in a confined space (65mm from outer edge of endblock to race-track)
Can be used in conjunction with Gencoa gas bars, active anode, Optix and Speedflo
Key features
Up to 1.2m long targets possible depending on weight
Flange mounted to drop into a chamber opening
Accommodation of Ø75mm, Ø90 & Ø100 targets
1" ID quick release water connections for high flow
DC motor drive with RS-485 interface and possible PLC integration
Power connections: DC via 7/16 or AC/DC via Harting
Operational speed up to 15RPM
Single or dual units can be mounted on a single flange plate
Gallery



Downloads
Related Applications
Contact Gencoa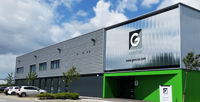 To contact Gencoa at our Liverpool headquarters, click for contact details.
For details of international representatives, refer to our list of worldwide contacts.