Retrofit magnetics
In some cases where it is not necessary or desirable to replace a complete magnetron cathode, it is possible for Gencoa to provide a replacement magnetic system to fit into the existing cathode body. This is a cost-effective method of upgrading the performance of the current system.
In nearly all cases it is possible to fit our standard balanced (SW) or unbalanced (PP) magnetic systems. In 70% of cases it is possible to fit our high yield (HY) type magnetics.
The possible reasons to replace magnets are include the following:
Defective magnets

Corrosion of magnets located in water (very common)
Over-heating and degaussing of the magnets

To increase target utilization
To increase magnetic field strength for low pressure/voltage or magnetic material sputtering
To improve coating uniformity in both circular and rectangular geometries
To enhance plasma reactivity and energy by unbalancing the magnetic field
To reduce arcing by avoiding closed magnetic field interactions with system anodes
To achieve cleaner targets, especially in reactive sputtering
Contact [email protected] with details of your current cathodes and required magnetics to discuss the available options for a planar magnetron retrofit.
Gallery

Downloads
Upcoming Events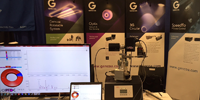 26-29 September 2023

- International Conference on Thin Films

2-5 October 2023

- 2023 R2R USA Conference

24-26 October 2023

- SPIE Photonex

5-10 November 2023

- AVS 69th International Symposium & Exhibition