Effusion Cell
The pulsed cracker effusion cell is a collaborative development between Nano4Energy and Gencoa, and is an innovative solution for single-stack sputtering, incorporating selenization/sulphurization.
The inclusion of a pulsed effusion cell to the process enables materials such as Selenium and Sulphur to be introduced during the sputtering of metals, allowing the controlled injection and dispersion of Se and S in application fields such as PV solar cells (CIGS processes).
By using the effusion cell in conjunction with Speedflo, a high degree of feedback control can be achieved through input from a sensor within the process.
Key features
Precise control of gas
Responsive and fast-active valve
Dynamic feedback control using Speedflo
Active reproducible feedback control
Vapour phase injection and dispersion
Areas of application include CIGS, monomer vapours for barrier layers and organic vapours for OLED.
More information on the pulsed cracker effusion cell can be found in the September edition of Gencoa's technical focus.
SeS Sensor
Gencoa have developed a convenient sensor mounted on the vacuum chamber wall specifically to measure the level of Se or S inside a vacuum chamber. It is a chemical type sensor that provides a voltage change as the Se level varies within the chamber.
The selenium sensor is more sensitive and reliable than a quartz crystal monitor in sensing the changes in Se delivery.
The sensor can be used for any process for feedback control of the Se content in the chamber via the Gencoa Speedflo controller or own PLC / heater controller.
The Speedflo controller interfaces with a PLC, OPC server or window's interface to display the signal and control the sensor functions. Feedback mode is also available via the Se delivery source to automatically regulate the Se at a certain level. The Se source used can be the Gencoa high speed pulsed effusion cell PEC, or through use of a valved effusion cell, or an unvalved cell through temperature feedback control – slower speed Se or S regulation.
Advantages
Chemical sensor – direct measurement of chemical concentration of Selenium or Sulphur
Lower cost as compared to other methods
Non-obtrusive, attached to the chamber wall
Outputs a voltage for fast feedback control of valved vapour source e.g. the Gencoa PEC
Integrate sensor & feedback control package available for closed loop control
Gallery





Downloads
Upcoming Events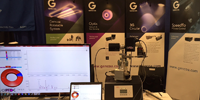 26-29 September 2023

- International Conference on Thin Films

2-5 October 2023

- 2023 R2R USA Conference

24-26 October 2023

- SPIE Photonex

5-10 November 2023

- AVS 69th International Symposium & Exhibition