Optix
Optix is a multi-purpose instrument for rapid gas sensing in any vacuum environment, functioning through a wide range of operating pressures to cater for most industrial vacuum production processes without any requirement for a differential pumping system unless atmospheric sampling.
Separated from chemicals by an optical window, Optix uses a remote plasma spectroscopy concept which generates a small plasma within the sensor head. A built-in spectrometer analyzes the plasma, automatically interpreting the light spectrum to provide quantitative measurement of the presence and concentration of gas within the vacuum.
The Optix spectral information and sophisticated back-end software creates a range of uses for a wide range of applications, including contaminating processes involving hydrocarbons, solvents and long-chain polymers.
Small changes are made to the device in the case of sensing CVD and ALD type processes in order to prevent contamination of the plasma head. Sensing from atmosphere is also possible with a small roughing pump to bring the gases into the sensor.
Optix is very portable and easily switched between different vacuum systems or hand-carried in a small box to customer sites. It also offers an ultra-high sensitivity single gas option for dedicated leak detection.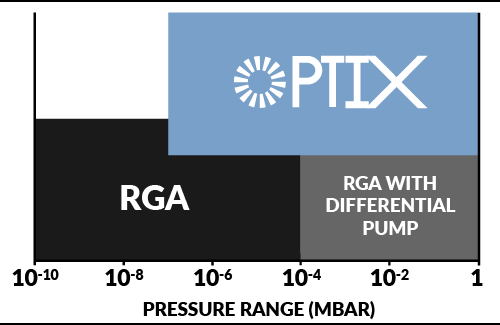 Applications/Processes
• ALD
• CVD
• Etch
• Heat treatment
• Hipping
• Leak detection
• MOCVD
• OLED
• Plasma spraying
• Process gas analysis
• PVD
Pressure regime advantages
• Wide pressure range, operating directly at most process pressures
• No need for expensive/complex differential pumps
• No spurious readings from differential pump systems
• No filaments and low maintenance
• Chemically-tolerant with dedicated version for ALD and CVD processes
• Automatic calibration of total pressure reading
• Direct monitoring of the vacuum instantly register any changes (m/sec response)
• Significantly less expensive than RGA and differential pump combination
Interface
An advanced Windows user interface provides clear visualisation of the condition of the process and vacuum, and powerful tools for recording and referencing data enable easy identification of process problems.
Up to 20 gases can be monitored simultaneously, with process gas tracking that can be set up with trigger/alarm outputs.
A full, tuneable spectrum view (200-850nm) provides control of integration time for sensitivity adjustments, and automatic gas peak detection works from a gas auto identification database which can be adjusted to incorporate additional peaks of specific interest.
Software features
• Built-in spectrum database for atomic and molecular emission signatures
• Automatic spectrum interpretation
• Time plots for automatically or user defined species
• Customizable trigger set-up for end point detection or process control
• Comprehensive data recording and data referencing capability
• Vacuum quality tracker
• Leak detection mode
More information on the features included in the Optix software are detailed in the video presentation on Real time spectral plasma analysis software tools
Gallery










Downloads
Related Applications
Upcoming Events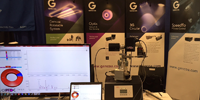 26-29 September 2023

- International Conference on Thin Films

2-5 October 2023

- 2023 R2R USA Conference

24-26 October 2023

- SPIE Photonex

5-10 November 2023

- AVS 69th International Symposium & Exhibition