GRS-M
The GRS-M product is a high capacity 'drop-in' rotatable magnetron for target diameters of 152mm and above, and target lengths of up to 2m, in a vertical or horizontal orientation.
Whilst able to accommodate high target loads, the space required for the GRS-M is reduced as a result of the Gencoa patented rotational drive system. To make the most of the compact nature, the GRS-M is hence ideal for vertical display coaters or horizontal in-line coating systems.
When combined with Active Anodes higher rate and quality oxides and ITO layers are produced.
Advantages
Double seals for target mounting and double screws target fixing
Unique patented drive system provides a compact and high capacity end block design
High water flow (60 l/min)
Market leading integrity of vacuum seals – better than 5x10-8 mbar l/s He leak rate under rotation
Utilises Gencoa's high performance magnetics including balanced, unbalanced, high strength and DLIM options
Low deflection magnet bar support tubes
Can incorporate an active anode in dual configuration for higher density, low defect and low stress layers
Unique seal design for reliable operation sets it apart from other competitors
High uniformity in a confined space, 107mm from outer edge of endblock to race-track
Can be used in conjunction with Gencoa gas bars, active anode, Optix and Speedflo
Key features
Up to 2m long targets possible, greater depending upon weight and orientation depending on weight
Flange mounted to drop into a chamber opening
Accommodation of Ø152mm targets
1" ID quick release water connections for high flow
DC motor drive with RS-485 interface and possible PLC integration
Power connections: DC via 7/16 or AC/DC via Harting
Operational speed up to 15RPM
Single or dual units can be mounted on a single flange plate
Complete drop-in assemblies available with Active Anodes, multi-zone gas delivery bars and drive/water monitoring
Gallery


Downloads
Related Applications
Upcoming Events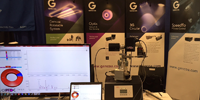 26-29 September 2023

- International Conference on Thin Films

2-5 October 2023

- 2023 R2R USA Conference

24-26 October 2023

- SPIE Photonex

5-10 November 2023

- AVS 69th International Symposium & Exhibition