GRS-V: Rotatable Magnetron
GRS-V is a vertically-mounted rotatable magnetron by Gencoa, a recent addition to the Gencoa Rotatable System product range. The GRS-V features high power capacity and water flow, excellent end-block vacuum integrity and has a water drain feature for easy target change within the chamber.
Its unique design addresses the key points in reliable sputter process delivery for high volume applications. The GRS-V end-block and magnetic arrays are designed to reduce the cost of ownership for the decorative and functional coating environments.
The GRS-V is a purpose designed vertical source and contains the key feature of motor or manual adjustment of the race track angular position. The GRS-V is aimed at display coaters with in-line or static glass, also batch coaters for decorative and hard coating and high power metallizing of plastic parts.
Advantages
Can use varying target diameters
Double seals for target mounting and double screws target clamping
Quick release magnet bar for in-chamber target changing
Variable target to chamber plate distances (please specify on order)
High water flow and power delivery
Market leading integrity of vacuum seals – better than 5x10-8 mbar l/s He leak rate under rotation and > 3 year dynamic seal life guarantee
Easy to maintain
Can be used in conjunction with Gencoa gas bars, Active Anode, Optix and Speedflo
Array angle positioning for pre-cleaning targets in the reverse direction
No out-bound support required for vertical down orientation
Utilises Gencoa's high performance magnetics designed for different production needs:

XPP extremely unbalanced for reactive ion assisted deposition (hard coating)
PP unbalanced magnetics for decorative coating of plastics
HS high strength for ITO, magnetic targets and high power metallizing
DLIMAA, double low impedance magnetics with Active Anode for higher density, lower stress layers
Gencoa can provide complete system magnetic layouts for different power modes and applications with optional on-site process installation
Key features
Up to 3m long targets
Port mounted externally to chamber
Accommodation of Ø90, Ø100, Ø125 & Ø152 mm targets
¾" ID water connections for high flow
Direct drive of target rotation – no tensioned belt
DC motor drive with RS-485 interface and possible PLC integration
High current Harting power connection
Manual or motorised array positioning for multiple substrate location or target cleaning
Operational speed up to 15RPM
Gallery






Downloads
Related Applications
Contact Gencoa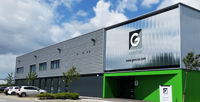 To contact Gencoa at our Liverpool headquarters, click for contact details.
For details of international representatives, refer to our list of worldwide contacts.