Compact cathode
To serve markets requiring a simpler cathode design in as small a footprint as possible, Gencoa have introduced the 'compact' range, offering cathodes which are significantly smaller than standard cathodes and have fewer mechanical features.
The compact cathodes can be supplied with direct or indirect cooling, with or without anodes and can be used in simpler DC and AC applications with targets typically up to 1m in length.
The compact magnetron designs meet the requirements of a small format magnetron to fit into existing ports and provide high power operation. The magnetrons are highly robust in terms of ability to withstand a harsh environment.
directly cooled 5", 6" or 8" wide targets of variable length
compact cathode body (as small as 6.8" wide for 6" target)
no anode (uses chamber flange)
>40% target use with HY magnetics
no Heli-coils used; the cathode body is made from a hard 'bearing' type material that allows power tools to be used and prevents seizing
Gallery







Downloads
Related Applications
Gencoa Newsletter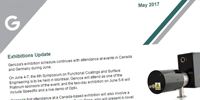 Signup to Gencoa's newsletter to receive exhibition news and updates on new product releases.