Decorative
The production of a metallized plastic moulding is the basis of the automotive headlamp industry. Traditionally the sector used thermal evaporation of aluminium ribbons through current-driven thermal boats and coils. This method is still widespread but is gradually being replaced by sputter-based methods.
Sputtering has some advantages in its layer properties (density) due to the much higher kinetic energy of the process compared to thermal methods. But its main advantage is to provide a higher level of automation into production cells. With sputtering it is possible to operate a just-in-time continuous production process integrated with the injection moulding stage of the reflector.
Although a basic metallizing process is required and the product cost modest, there are many challenges for a successful coating process. Two types of machine populate the market:
Rapid cycle air-to-air batch processing
Continuous load-locked sequential processing
The difficulties of the process are essentially the same for both production methods and are tracked back to the substrate material itself. As a plastic it can hold a percentage of moisture which will be liberated on heating of the material or under-extended time in vacuum. If the moisture is liberated during the process, then a semi-reactive environment will be created, leading to process challenges known as 'dulling' or 'misting' of the film. The substrate can be 'sealed' by a plasma activated monomer stage prior to sputter coating.
This produces a sealing to the plastic substrate and will prevent moisture being liberated during the coating process. However a seal layer adds time and cost. If the part can be coated without a seal layer, it will be quicker and cheaper. To do this the metallization stage needs to be as rapid as possible to produce the layer before the plastic has time to heat up and liberate moisture. Hence the highest possible power needs to be applied and the correct system geometry produced such that sputter times can be the order of 60-180 seconds. The next challenge is to 'seal' the sputtered layer itself. As the layer is aluminium, it will be prone to atmospheric oxidation and a consequent reduction in reflection.
To prevent this, the plasma-deposited monomer layer is always used after sputtering. This process is a plasma CVD-type reaction activated by a medium frequency plasma. It's a simple and effective process that provides the appropriate level of protection of the coating. However as these two processes are commonly performed in the same chamber, the effect of the 'plastic' seal layer on the sputter cathode has to be carefully managed as both the target surface and anode are affected.
So this 'simple' application has three main challenges:
Low cost extended 'bomb-proof' production
Extremely high power densities
Anode protection and cathode protection from monomer
Gencoa have hence created the Metallizer (Mz) cathode. This source uses very thick sputter targets, has very high flow and efficient cooling and has a special anode arrangement to both prevent shorts with extended target lifetimes, and also to maintain the anode after monomer layer production.
The cathode has to operate in a heavy industrial environment and is designed to prevent damage and failure during its use. Important aspects such as the use of large M8 screws and a bearing material to take the screw thread prevents seizure and the need for screw lubricants. Integrated anodes can be rapidly detached for cleaning operations and the targets are indirectly cooled so that no water-to-vacuum seal is broken during change-over. The water and power utilities can be matched to local connector types for ease of sourcing for mating and compatible parts. Gencoa can also provide process support and training for both the sputter and monomer phases of the production.
Related Products
Contact Gencoa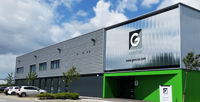 To contact Gencoa at our Liverpool headquarters, click for contact details.
For details of international representatives, refer to our list of worldwide contacts.