Perfect your process
Gencoa is a customer-focussed company providing expert solutions for the vacuum coating sector throughout the world. For over 25 years, Gencoa has been perfecting its range of magnetron sputter cathodes and plasma deposition components, in addition to the introduction of process control and sensing products.
Product brochure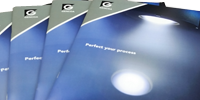 Download a PDF copy of Gencoa's latest product brochure.