Products
Through experience and extensive technical know-how, Gencoa is able to provide a complete sputtering solution. Rectangular and rotatable magnetrons offering a large choice of magnetic options are complemented by our range of ion sources for pre-cleaning and process tools such as the powerful Speedflo process controller and Optix vacuum monitor.
Contact Gencoa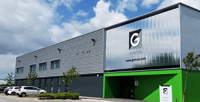 To contact Gencoa at our Liverpool headquarters, click for contact details.
For details of international representatives, refer to our list of worldwide contacts.